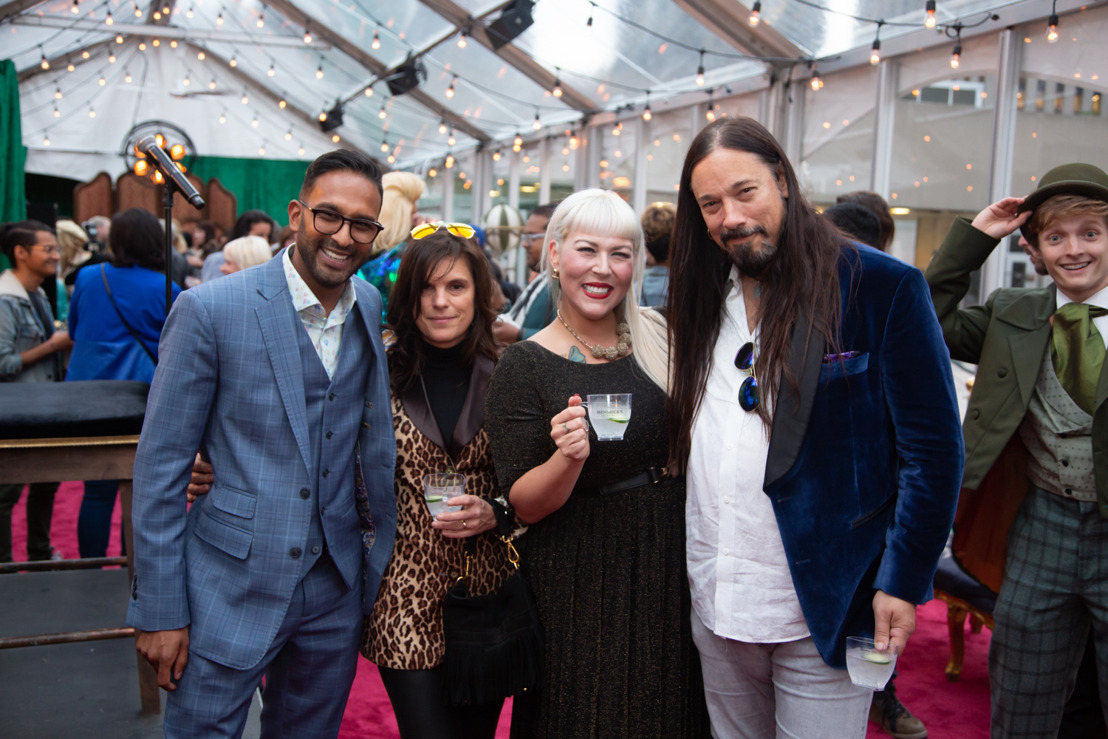 THE TRAGICALLY HIP'S ROB BAKER AMONG VIP GUESTS AND CURATORS OF THE CURIOUS WHO GATHERED FOR AN EPIC FIRST EVENING OF THE HENDRICK'S GIN L.E.V.I.T.A.T.R.E.
Curious companions of the cucumber united as Hendrick's Gin took the stage to delight and disrupt with a simultaneous spectacle of sound and sight at the Nuit Blanche Toronto preview yesterday evening.
Saturday, September 29, 2018 —

Toronto, ON – The doors to the peculiarly odd world of Hendrick's Gin were unlocked for a select group of media who gathered in the Square of Spectacles (Nathan Phillips Square) for a theatrical splendour for thy gleeful gaze, thy eccentric ear, thy omnipotent olfaction, thy spiritual self and for thy peculiar palette.

Golden ticket guests gathered with Madame L.E.V.I.T.A.R.E. and her 11 botanical friends to celebrate the opening of the Hendrick's Gin Air Departure Lounge and the launch of L.E.V.I.T.A.T.R.E. (Levitating, Elevating, Voluminous, Illuminous, Tantalizing, Amazingly, Towering, Roaming, Eye) at Nuit Blanche Toronto. The sweet symphonic sounds harnessed from the power of the cucumber from the world's first-ever C.O.R.G.A.N. (Cucumber Organ of Remarkably Glorious, Auditory Nirvana) provided an auditory bliss for the preview of the nocturnal nirvana of Nuit Blanche this evening.

Hendrick's Gin also entered a darker and daring parallel world with an exclusive tasting of their limited edition, reimagined gin Orbium. Infused with three additional ingredients: quinine, wormwood, and blue lotus blossom in addition to the 11 botanicals in the traditional Hendrick's Gin recipe, Orbium will be available at select stores and venues in Ontario, Quebec and British Columbia. Canada is one of only 10 global markets that will receive the Orbicular Orbium before it ceases to exist.

L.E.V.I.T.A.R.E. shall soar the skies this evening (Saturday, September 29) from 7.00 p.m. to 7:00 a.m. on the West side of Nathan Phillips Square during Nuit Blanche Toronto.

To learn more about the whimsical world of Hendrick's Gin, please visit www.HendricksGin.com.

ABOUT WILLIAM GRANT & SONS

William Grant & Sons Holdings Ltd is an independent family-owned distiller headquartered in the United Kingdom and founded by William Grant in 1887. Today, the global premium spirits company is owned by the fifth generation of his family and distils some of the world's leading brands of Scotch whisky, including the world's most awarded single malt Glenfiddich®, The Balvenie® range of handcrafted single malts and the world's third largest blended Scotch, Grant's®, as well as other iconic spirits brands such as Hendrick's® Gin, Sailor Jerry®, Tullamore D.E.W.® Irish Whiskey, Monkey Shoulder® and Drambuie®.

ABOUT NUIT BLANCHE TORONTO

Nuit Blanche Toronto is the city's annual all-night celebration of contemporary art, produced by the City of Toronto in collaboration with Toronto's arts community and funded in part by the Government of Ontario. Since 2006, this award-winning event has featured almost 1,490 art installations by approximately 5,200 artists and has generated over $355 million in economic impact for Toronto. Information and updates are available at nbto.com, on Facebook at facebook.com/nuitblancheTO, on Twitter at twitter.com/nuitblancheTO, on Instagram at instagram.com/nuitblancheTO. The event hashtag is #nbTO18.

-30-
Meg Sethi President & CEO/PR Director, Evolution Public Relations Inc.
Rachael Friel PR Manager, Evolution Public Relations Inc.