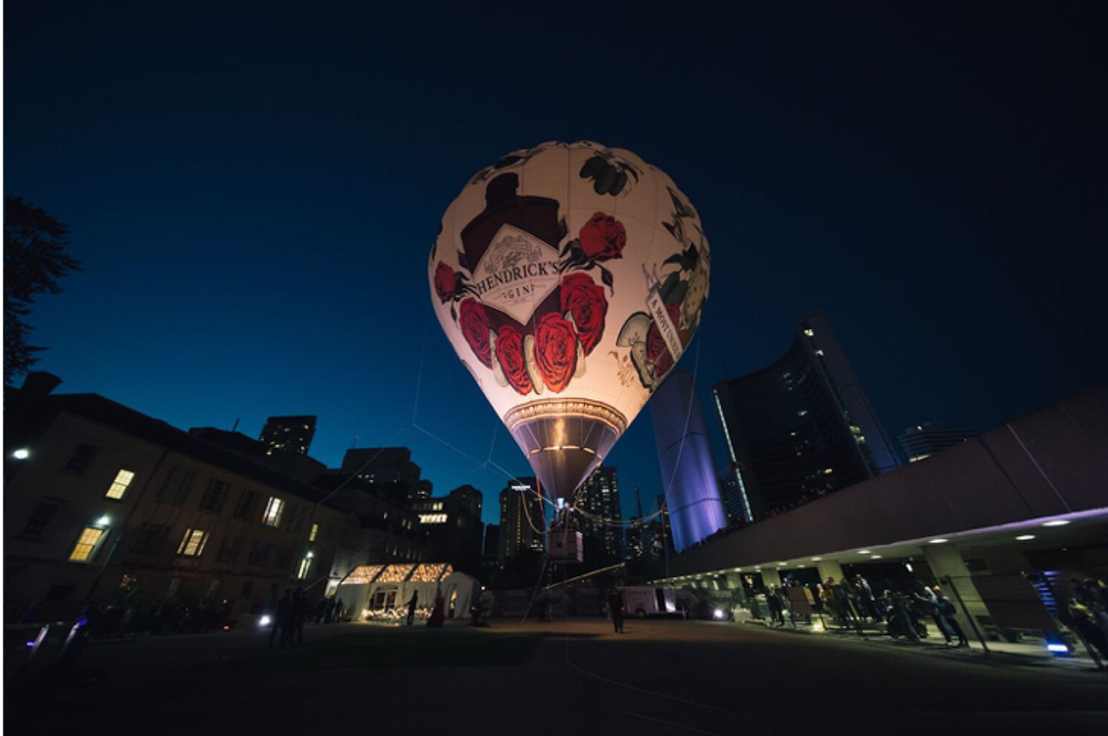 PURVEYORS OF THE PECULIAR TO REVEL IN NOCTURNAL NIRVANA WITH TUNE TRANSMITTING CUCUMBERS AND A 65 FOOT L.E.V.I.T.A.T.R.E. AT NUIT BLANCHE TORONTO THIS WEEKEND
Curious companions of the cucumber unite, as Hendrick's Gin takes the stage to delight and disrupt with a simultaneous spectacle of sound and sight at Nuit Blanche Toronto this weekend.
Wednesday, September 26, 2018 —

Hendrick's Gin proudly opens the doors to their wonderfully unusual world of whimsy at Nuit Blanche Toronto on Saturday, September 29, 2018.

Taking place at the Square of Spectacles (better known as Nathan Phillips Square) in downtown Toronto, Hendrick's Gin L.E.V.I.T.A.T.R.E. is a fully integrated multi-sensory eccentric experience introducing guests to a whimsical world like no other.

"Hendrick's Gin is about cultivating the unusual," comments Beth-Anne Perry, Senior National Brand Manager, Hendrick's Gin. "As purveyors of the peculiar, we aim to surprise, delight and disrupt guests with a once-in-a-lifetime, multi-sensory experience from sundown to sunrise that shares the curiously odd realm of Hendrick's Gin with Nuit Blanche guests."

HENDRICK'S GIN NOCTURNAL NIRVANA AT NUIT BLANCHE TORONTO: Saturday, September 29, 7:00 P.M. to 7:00 A.M.

For Thy Gleeful Gaze

The Hendrick's Gin L.E.V.I.T.A.T.R.E. (Levitating, Elevating, Voluminous, Illuminating, Tantalizing, Amazingly, Towering, Roaming, Eye) will whisk those lucky enough to have acquired the coveted gift of gold in the form of a contest winning golden ticket to an unconventional journey 44 ¼ cucumbers in the sky to observe Nuit Blanche from a view usually reserved for our favourite feathered friends.

For Thy Eccentric Ear

Hendrick's Gin is delighted to unusually unveil (for the first time at Nuit Blanche) the C.O.R.G.A.N. (Cucumber Organ of Remarkably Glorious Auditory Nirvana), a one-of-a-kind musical instrument which consists of real, whole cucumber keys that create a distinctive note when touched, giving festival visitors an auditory and oddly unusual experience unlike any other.

For Thy Omnipotent Olfaction

The nose shall not be forgotten in our nocturnal nirvana! Guests in the Hendricks's Gin Air Departure Lounge can take a moment to stop and smell the sweet scent of roses accented by the world's most glorious cucumbers, and quite befitting, as Hendrick's Gin is curiously infused with cucumber and rose.

For Thy Spiritual Self

Let your inner energy be awakened by the purveyors of the peculiar! Renowned Intuitive Specialist Terri-Lynn Decker comes from a land to the East giving golden ticket holders special energy readings, adding to the whimsical wonderment of the Hendrick's Gin L.E.V.I.T.A.T.R.E. experience.

For Thy Peculiar Palette:

As part of the Nocturnal Nirvana at Nuit Blanche, golden ticket contest winners shall have the pleasure of teasing their palette with the limited edition, reimagined Hendrick's Gin Orbium. Orbium is a limited edition gin from a parallel universe that is infused with three additional ingredients: quinine, wormwood, and blue lotus blossom, complementing the classic cucumber and rose essence of Hendrick's Gin. Canada is one of only 10 global markets that will be receiving the desired Hendrick's Orbium and will be available in a handful of select stores and venues in Ontario, Quebec and British Columbia.

"Orbium is how we imagine Hendrick's Gin in a parallel world," comments Alvin P. Ramchurn, National Brand Ambassador, Hendrick's Gin. "We're continuing to share the magic and wonder of our gin, by showcasing our more daring and darker side of Hendrick's, enticing our guests further into the curiously whimsical world of Hendrick's Gin."

For those curious seekers of palette-pleasing nirvana, our Hendrick's Gin tantalizing teacup G & Ts will be available for golden guests at the Hendrick's Gin Air Departure Lounge until 2:00 a.m. Guests can join Madame L.E.V.I.T.A.T.R.E. and her 11 botanical friends to celebrate Hendrick's Gin as the first-ever spirit sponsor for Nuit Blanche Toronto in 13 years of Nuit Blanche history.

For the second time in 13 years of Nuit Blanche History, Hendrick's Gin welcomes golden ticket guests into the unusually captivating world of Hendrick's Gin that connects art to the unusual and pomp to peculiarity, creating a curiously wonderous and whimsical world for guests to enter.

All Nuit Blanche Toronto attendees 19+ and over are welcome to experience and engage in the magic of the Hendrick's Gin Air Departure Lounge and view golden ticket holders soaring the skies. A series of golden tickets will also be available to win on location for festival guests (19+) in an onsite balloting on Saturday, September 29, 2018.

"A Hendrick's Gin soiree is always a spectacle of the unusual," adds Alvin Ramchurn, National Brand Ambassador, Hendrick's Gin. "We pride ourselves on being purveyors of the peculiar and L.E.V.I.T.A.T.R.E. and the C.O.R.G.A.N. will be no exception!"

For information regarding booking a media flight on the Hendrick's Gin L.E.V.I.T.A.T.R.E., please contact levitatre@evolutionpr.ca.

To learn more about the whimsical world of Hendrick's Gin, please visit

ABOUT NUIT BLANCHE TORONTO

Nuit Blanche Toronto is the city's annual all-night celebration of contemporary art, produced by the City of Toronto in collaboration with Toronto's arts community and funded in part by the Government of Ontario. Since 2006, this award-winning event has featured almost 1,490 art installations by approximately 5,200 artists and has generated over $355 million in economic impact for Toronto. Information and updates are available at nbto.com, on Facebook at facebook.com/nuitblancheTO, on Twitter at twitter.com/nuitblancheTO, on Instagram at instagram.com/nuitblancheTO. The event hashtag is #nbTO18.

-30-
Meg Sethi President & CEO, Evolution Public Relations Incorporated
Rachael Friel PR Manager, Evolution Public Relations Inc.