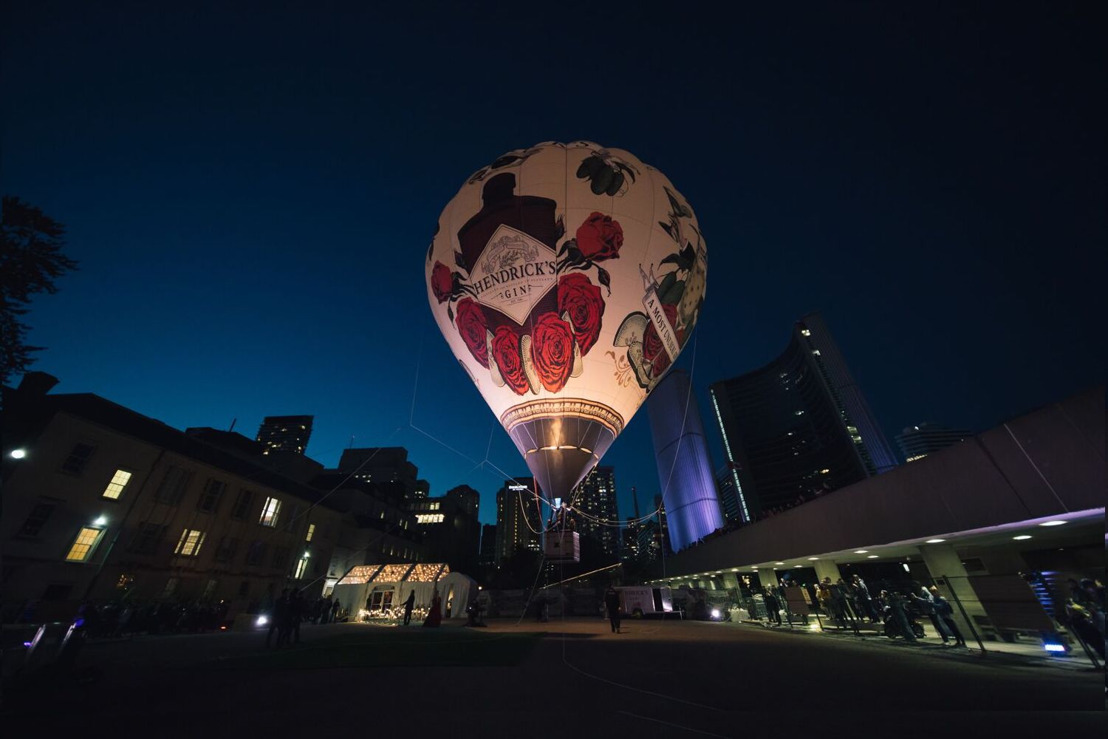 POMP AND PECULIARITY: HENDRICK'S GIN L.E.V.I.T.A.T.R.E. RETURNS TO ENCHANT FROM SUNSET TO SUNRISE AT THE 13TH ANNUAL NUIT BLANCHE TORONTO
Hendrick's Gin returns to Nuit Blanche Toronto with a multi-sensory, all-night experience that includes the first public participation for the penchants of peculiar at the annual citywide celebration.
Thursday, August 23, 2018 —

Curators of the curious, standby! The skyward spectacle of spectacles returns to Toronto for a celebration from sunset to sunrise at Nuit Blanche Toronto on Saturday, September 29, 2018 from 7:00 p.m. to 7:00 a.m. on the west side of Nathan Phillips Square, just steps from Toronto City Hall.

"Hendrick's is a gin that cultivates the unusual," comments Beth-Anne Perry, Senior National Brand Manager, Hendrick's Gin. "Bringing the spectacular world of Hendrick's Gin to life with our L.E.V.I.T.A.T.R.E. experience at City Hall allows us to engage our guests in a whimsically magnificent way. We are thrilled to be back in Toronto for our second year in a row and look forward to celebrating the wonder of Nuit Blanche Toronto with over 1 million Canadians who come out to enjoy it each year."

Soaring into the sky for an exclusive Nuit Blanche Toronto appearance, the 65-foot L.E.V.I.T.A.T.R.E. (Levitating, Elevating, Voluminous, Illuminating, Tantalizing, Amazingly, Towering, Roaming, Eye) will elevate golden ticket holders to 44 ¼ cucumbers (44.25 feet) to soar from sunset to sunrise for a special birds-eye view of the city.

Hendrick's Gin is also delighted to invite honored guests to the Air Departure Lounge for the peculiar pleasure of heeding the first ever notes played by the C.O.R.G.A.N. on City Hall grounds. The C.O.R.G.A.N. (aka the Cucumber Organ of Remarkably Glorious Auditory Nirvana) is a one-of-a-kind musical instrument that consists of real, whole cucumbers for keys which generate splendid sonnets of sound.

Alas! The fanciful fun doesn't end there! Renowned Intuitive specialist Terri-Lynn Decker will also give golden ticket holders special energy readings, adding to the magic and wonderment of the Hendrick's Gin L.E.V.I.T.A.T.R.E. experience.

To earn entry to fly on the L.E.V.I.T.A.T.R.E. Hot Air Balloon, guests must have earned the status of 19 years or above in age and also carry their revered golden ticket, which is available to win one of the following three ways:
Sip & Savor at one of the Hendrick's Gin Cocktail Emporium Locations:

Order a Hendrick's Gin & Tonic at any one of the participating bars in Toronto from August 24th to Sept 21st for entry into each venue's contest to win a coveted pair of golden tickets. Participating bars include:
Enter Onsite: Nuit Blanche Toronto guests can visit the Hendrick's Gin Air Departure Lounge on Saturday, September 29 and enter to win a chance to fly every hour (limited to penchants of the peculiar over the age of 19).
The Hendrick's Gin L.E.V.I.T.A.T.R.E. will be tethered at Toronto City Hall during Nuit Blanche Toronto on Saturday, September 29th, 2018. Flights will take place in the evening from 7:00 p.m. to 7:00 a.m. (conditional on wind patterns) and all guests bearing a golden ticket will have the opportunity to ride.
"A Hendrick's Gin soiree is always a spectacle of surprise," adds Alvin Ramchurn, National Brand Ambassador, Hendrick's Gin. "We pride ourselves on being purveyors of the peculiar and the L.E.V.I.T.A.T.R.E. shall be no exception. We look forward to bewildering our lovely guests!"
For information regarding booking a media flight on the Hendrick's Gin L.E.V.I.T.A.T.R.E., please contact levitatre@evolutionpr.ca.
To learn more about the whimsical world of Hendrick's Gin, please visit
Meg Sethi President & CEO, Evolution Public Relations Inc.
Rachael Friel PR Manager, Evolution Public Relations Inc.