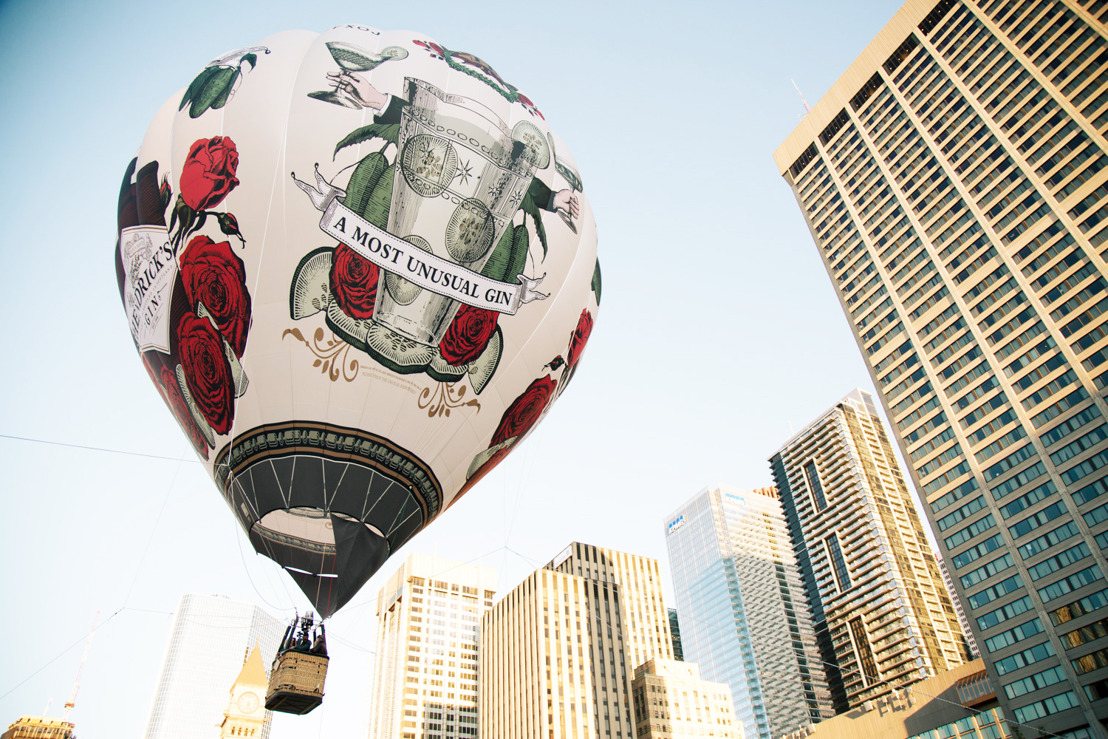 HENDRICK'S GIN E.L.E.V.A.T.U.M. BREAKS GLOBAL RECORDS AS FIRST OPERATING HOT AIR BALLOON AT THE 2018 FESTIVAL INTERNATIONAL DE JAZZ DE MONTREAL IN OVER 38 YEARS
E.L.E.VA.T.U.M. to soar high above Quartier des Spectacles at the 2018 Festival International de Jazz de Montreal at 44 ¼ cucumbers elevation.
Monday, April 16, 2018 —

While the annual Festival International de Jazz de Montreal usually surprises and delights its audiences with trumpets and trombones (and many other auditory wonders), Hendrick's Gin plans to whimsically "elevate" this year's experience with a mystical symphony of wonder, coming straight from the sky.

For the first time in over 39 years of Jazz Festival history, Hendrick's Gin merges music with spectacle, jazz with gin and a glorious hot air balloon (oddly decorated with cucumbers and roses) on a maiden Montreal flight at 44 ¼ cucumbers elevation (the equivalent of 44.25 feet).

Famously called the Hendrick's E.L.E.VA.T.U.M. (Elevating, Levitating, Exceptionally, Voluminous, Amazingly, Towering, Uplifting, Mobile), the 65ft tall balloon will be stationed in the Quartier des Spectacles in Montreal for the opening two days of the world famous Festival International De Jazz De Montreal. Festival guests bearing the enchanting golden tickets will have access to the special Hendrick's Gin Air Departure Lounge complete with music, entertainment, Hendrick's gin sampling and the rare opportunity to fly on one of the special E.L.E.V.A.T.U.M. flights.

"Hendrick's is a gin that cultivates the unusual," comments Beth-Anne Perry, Senior National Brand Manager, Hendrick's Gin. "Bringing E.L.E.VA.T.U.M. to the largest global jazz festival allows us to create a symphony of music, art and the unusual, and share the whimsical world of Hendrick's with jazz fans from across the globe."

Bearing a basket perfectly suited for four, the E.L.E.VA.T.U.M. will soar high above the festival, giving Hendrick's voyagers a view often reserved for our feathered friends. For those with their feet planted firmly on the ground in the air departure lounge, the world's smallest Hendrick's teacup gin and tonics will be served, garnished with miniature cucumbers, while guests witness the wonderment through a 45-foot glass wall suited for spectacle viewing. Renowned Intuitive specialist Terri-Lynn Decker will also give golden ticket holders special energy readings, adding to the whimsical wonderment of the Hendrick's Gin E.L.E.VA.T.U.M. experience.

"A Hendrick's Gin soiree is always a spectacle of the unusual," adds Alvin Ramchurn, National Brand Ambassador, Hendrick's Gin. "We pride ourselves on being purveyors of the peculiar and E.L.E.VA.T.U.M. shall be no exception. We look forward to bewildering our lovely guests!"

The Hendrick's E.L.E.VA.T.U.M. will be tethered at the Quartier des Spectacles during the 2018 Festival International de Jazz de Montreal on Thursday, June 28 and Friday, June 29, 2018. Flights will take place in the evenings from 6:00 p.m. to midnight (based on wind patterns) and all guests bearing a golden ticket will have the opportunity to ride.

Coveted Hendrick's golden tickets for the E.L.E.VA.T.U.M. will be available to the public via a series of special contests to be announced over the coming weeks, to elicit excitement and wonderment for the maiden Montreal flight. The online portion of the Golden Ticket contest opens online to the public for residents of Quebec on June 7th at www.hendricksgin.com/balloon.

To learn more about the whimsical world of Hendrick's Gin, please visit www.HendricksGin.com.

- 30 -
Meg Sethi President & CEO, Evolution Public Relations Inc.
Rachael Friel PR Manager, Evolution PR