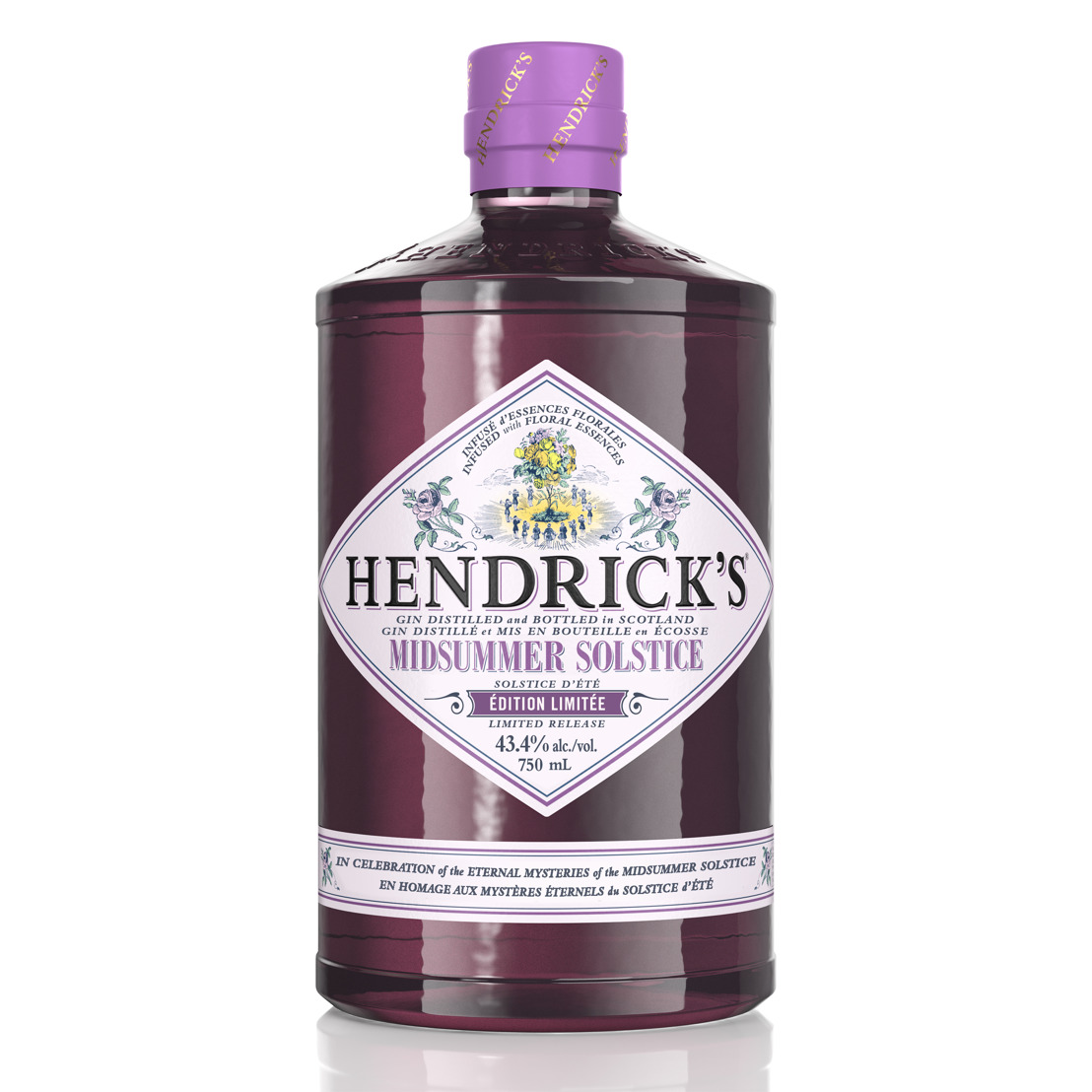 HENDRICK'S GIN AWAKENS NATURE'S MOST VIVID BLOOMS THIS HOLIDAY SEASON WITH THE RARE RELEASE OF 'MIDSUMMER SOLSTICE,' A MOST WHIMSICAL AND DELECTABLY FLORAL GIN.
Hendrick's Gin 'Midsummer Solstice' is the newest innovation to emerge from the Hendrick's Cabinet of Curiosities and will be available in select retailers across Canada.
Monday, November 18, 2019 —

The Purveyors of the Peculiar, Hendrick's Gin, have released their newest, small-batch, limited edition, curious innovation at the most peculiar time. Hendrick's 'Midsummer Solstice' is a deliciously floral incarnation of the world's most unusual gin, here just in time to brighten up the mundane winter days.

Hendrick's 'Midsummer Solstice' is inspired by the everlasting mystery of nature's most effervescent blooms, best experienced during nature's true summer solstice – when the Earth is tilted maximally toward the sun, peaking the abundant aromas of flowers in full bloom.

"A deeply rooted respect for nature and its most beautiful creations excited me to capture the aromas and flavours of a midsummer day," comments Lesley Gracie, Master Distiller, Hendrick's Gin. "I am truly enamored over this first release from the Cabinet of Curiosities."

Located at the new Hendrick's Gin Palace Distillery, the Cabinet of Curiosities is where the legendary distiller keeps her most experimental and treasured liquids under lock and key. It was here that Lesley curated the lush flora elements found in each sip of Hendrick's 'Midsummer Solstice.'

"Hendrick's is known as the world's most unusual gin, so it should come as no surprise that this unconventionally timed release of a midsummer inspired gin is happening before winter solstice," comments Jessica Mieczkowska, Canadian Brand Manager, Hendrick's Gin. "We are delighted to bring the first expression from the Cabinet of Curiosities to the Canadian market."

This innovative expression sees the original Hendrick's recipe instilled with a secret selection of floral essences that enhances the liquid's existing botanical bouquet. 'Midsummer Solstice's' floral and fragrant notes include zesty juniper with an initial brightness that melts to reveal hidden undertones of orange blossom and exotic ripeness. The result is an enchantingly floral and exquisitely refreshing gin that blossoms on the palate while remaining unmistakably Hendrick's.

"This is a once in a lifetime chance to experience something truly unique and unusual from Hendrick's Gin as 'Midsummer Solstice' will only be available for a fleeting moment in time", comments Alvin P. Ramchurn, National Brand Ambassador, Hendrick's Gin.

Hendrick's 'Midsummer Solstice' will be available at select retailers across Canada starting this Holiday season. Following the release of 'Midsummer Solstice,' additional new, rare and unique expressions from the Cabinet of Curiosities will be released annually to collect and enjoy and will only be available exclusively for a limited time.

For more information regarding Hendrick's 'Midsummer Solstice' or Hendrick's Gin in Canada, please visit the press room at hendricksgin.alchemystsinc.com.

To learn more about the whimsical world of Hendrick's Gin globally, please visit www.hendricksgin.com.

ABOUT HENDRICK'S GIN
Hendrick's is a deliciously super premium gin, made with a number of unusual twists. To deliver a most curious and delightfully unique flavor, Hendrick's combines a distinct blend of eleven botanicals, as well as the signature infusions of cucumber and rose petals, producing a wonderfully refreshing gin with a delightfully unique aroma. Hand crafted in Scotland in miniscule batches by William Grant & Sons, Hendrick's is the only gin that uses a marriage of spirits from both a Carter-Head and Copper Pot Still, a combination that produces a divinely smooth gin that has both the required character and balance of subtle flavors. In 2018, the Hendrick's Master Distiller, Lesley Gracie, was awarded 'Gin Distiller of the Year' by the World Gin Awards in recognition of her groundbreaking work. For further information, visit www.hendricksgin.com.

Facebook: hendricksgin

Instagram: hendricksgin

Twitter: hendricksgin

Hashtags: #hendricksgin

ABOUT WILLIAM GRANT & SONS

William Grant & Sons, Ltd. is an independent family-owned distiller headquartered in the United Kingdom and founded by William Grant in 1887. Today, the luxury spirits company is run by the fifth generation of his family and distils some of the world's leading brands of Scotch whisky, including the world's favourite single malt Glenfiddich®, The Balvenie® range of handcrafted single malts and the world's third largest blended Scotch Grant's® as well as other iconic spirits brands such as Hendrick's® Gin, Sailor Jerry®, Tullamore D.E.W Irish Whiskey, Monkey Shoulder and Drambuie
Bethan Murray PR Manager, Alchemysts Inc.
Meg Sethi President/CEO & Agency Director, Alchemysts Inc.