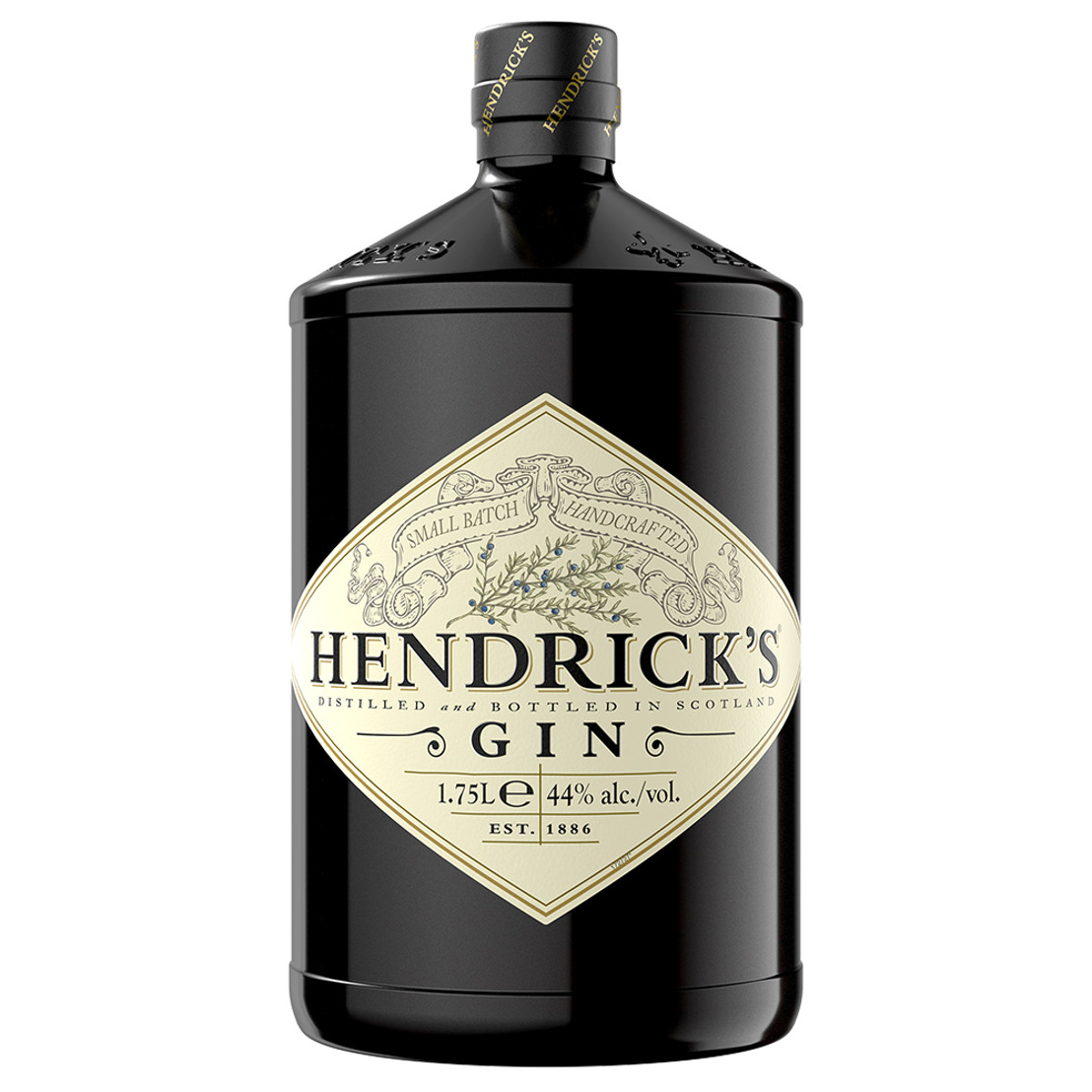 CURIOUSLY COLOSSAL: HENDRICK'S GIN RELEASES NEW 1.75 L BOTTLE IN SELECT RETAIL MARKETS ACROSS CANADA
The newest addition to the whimsical world of Hendrick's Gin gives the curious crowd an opportunity to enjoy cucumber and rose infused libations in epic proportions of peculiarity.
Wednesday, September 25, 2019 —

Toronto, ON – Purveyors of Peculiarity Hendrick's Gin announce the nationwide release of the Hendrick's Gin 1.75 L, a spectacular source of untamed peculiarity and monumental magic.

Unusually infused with cucumber and rose, along with the same bouquet of 11 botanicals as its smaller counterparts, the new 1.75 L bottle is fit for a crowd, not just a few.

"The gin category is currently one of the fastest growing spirit categories in Canada," comments Jessica Mieczkowska, Canadian Brand Manager, Hendrick's Gin. "The release of the new large format of Hendrick's Gin caters to the growing demand for gin and provides the opportunity to purchase the world's most unusually odd gin in vast volumes."

Hendrick's Gin is already recognized as one of the leading premium gins across the world, and the 1.75 L offering is the newest extension of the "most unusual gin" family, that includes the 750 mL original release, as well as a smaller 375 mL bottle release. The 1.75 L is now available at select retailers in British Columbia and Ontario and will be in Alberta later this Fall.

Bottle Specifications:

The 1.75 L maintains the same black apothecary style bottle of the original 750 mL bottle of Hendrick's Gin. The embossed handle grip and unusual spout make it the perfect bottle to ensure ease of pour at every social sharing occasion. The 1.75 L bottle is 15 inches long, 10.5 inches tall and 10 inches wide with a gross weight of 5.5 lbs.

Tasting Notes:

Hendrick's Gin is sublimely clean and dry, yet the marvelous complexity of the nose comes through in the taste. Take note of the citrus and juniper with a subtle, supernaturally pleasurable lingering finish of cool refreshing cucumber and rose.

Featured Cocktails:

Hendrick's & Tonic with Cucumber

Ingredients
2 parts Hendrick's Gin
Tonic water
Cucumber spears
Method: Pour Hendrick's Gin into a highball glass over ice cubes and fill with tonic water. Stir. Garnish with cucumber spears.
Garden of Curiosity Punch
Ingredients:
3 parts Hendrick's Gin
2 parts St. Germain -or- Earl Grey tea simple syrup*
1 part Freshly squeezed lemon juice
1 part chilled water
1 part dry rose champagne/sparkling wine
Cucumber wheels & edible flowers
Method: Combine ingredients over a large block of ice in a punch bowl. Add cucumber wheels and edible flowers to garnish & ladle to serve.
* To make Earl Grey tea simple syrup: Steep 8 Earl Grey tea bags
For information on availability of the Hendrick's Gin 1.75 L, please contact your nearest retailer for information.
For more information regarding Hendrick's Gin in Canada, please visit the online press room at hendricksgin.alchemystsinc.com.
To learn more about the whimsical world of Hendrick's Gin globally, please visit www.hendricksgin.com.
ABOUT HENDRICK'S GIN
Hendrick's Gin is a deliciously super premium gin, made with a number of unusual twists to deliver a most curious arrangement. Unlike ordinary gins, Hendrick's Gin is distilled in Scotland, in miniscule batches of only 500 litres at a time. Only Hendrick's Gin is made with infusions of cucumber and rose petals, alongside a blend of 11 botanicals, producing a wonderfully refreshing gin with a delightfully floral aroma. Hendrick's Gin is made in a combination of a Carter-Head and Bennett copper pot still, creating a divinely smooth gin with both character and balance of subtle flavours.
Facebook: hendricksgin
Instagram: hendricksgin
Twitter: hendricksgin
Hashtags are #hendricksgin
ABOUT WILLIAM GRANT & SONS
The makers of Hendrick's® Gin, William Grant & Sons, Ltd. are an independent family-owned distiller headquartered in the United Kingdom and founded by William Grant in 1887. Today, the luxury spirits company is run by the fifth generation of his family and distills some of the world's leading brands of Scotch whisky, including the world's most awarded single malt Glenfiddich®, The Balvenie® range of handcrafted single malts, and the world's third largest blended Scotch, Grant's®, as well as other iconic spirits brands such as Sailor Jerry®, Tullamore D.E.W.® Irish Whiskey, Monkey Shoulder® and Drambuie®, Reyka® Vodka and Milagro® Tequila. Represented in Canada by PMA Canada Agency. www.pmacanada.com
##
Meg Sethi President/CEO & Agency Director, Alchemysts Inc.
Bethan Murray PR Manager, Alchemysts Inc.