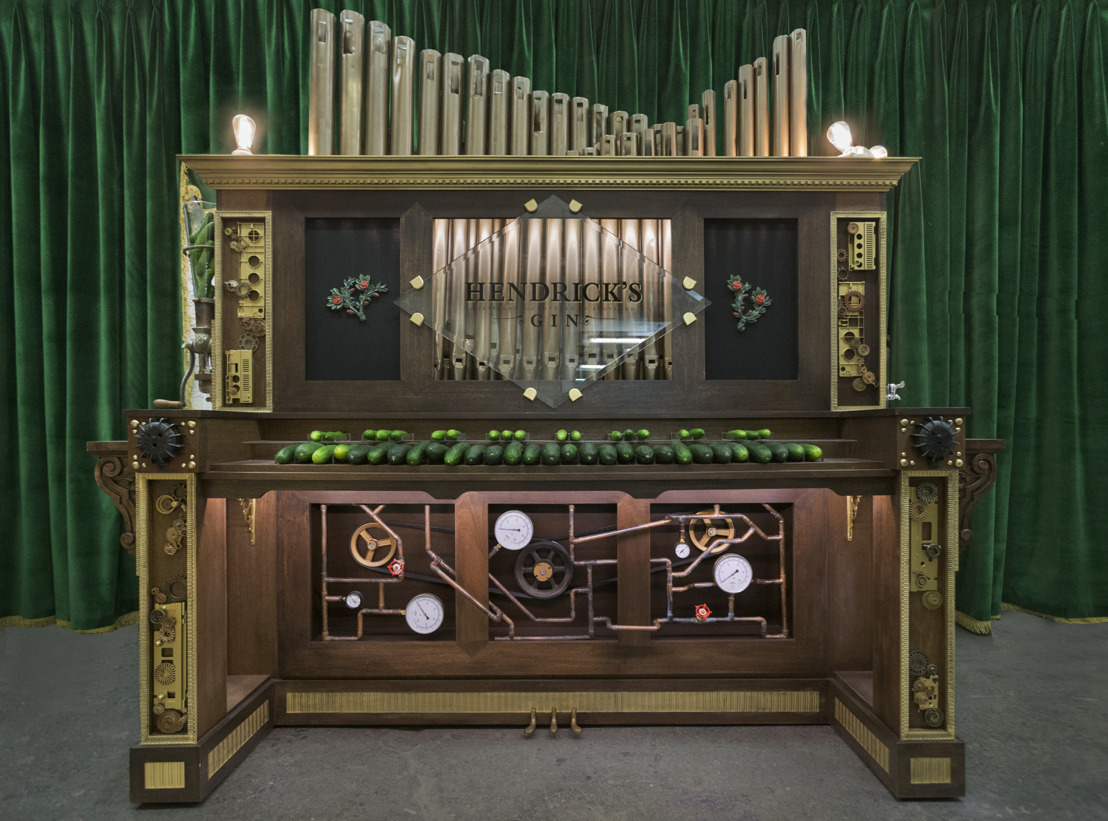 CUCUMBERS FOR KEYS: HENDRICK'S GIN BREAKS ANOTHER GLOBAL RECORD AS FIRST EVER JAZZ CUCUMBER ORGAN UNVEILS AT THE FESTIVAL INTERNATIONAL DE JAZZ DE MONTREAL
The "C.O.R.G.A.N." will provide the musical score as flights soar high in the sky above Montreal in the Hendrick's Gin "E.L.E.V.A.T.U.M." Hot Air Balloon on June 28th and 29th 2018
Monday, May 14, 2018 —

Hendrick's Gin is delighted to unusually unveil the first ever Jazz C.O.R.G.A.N. at this year's Festival International de Jazz de Montreal.

Famously named the C.O.R.G.A.N. (or Cucumber Organ of Remarkably Glorious Auditory Nirvana), is a one-of-a-kind musical instrument which consists of real, whole cucumber keys that create a distinctive jazz tone when touched, giving festival visitors an auditory and oddly unusual experience unlike any other. The Hendrick's Gin Jazz Cucumber Organ and spectacle is set to be displayed at the festival for an exclusive ten-day appearance.

"The C.O.R.G.A.N. is another whimsical element we have crafted in our pursuit of the peculiar," comments Beth-Anne Perry, Senior National Brand Manager, Hendrick's Gin. "We look forward to surprising and delighting the universal jazz community with the launch of the Hendrick's Jazz C.O.R.G.A.N."

The cucumber organ has been designed in a style that is reminiscent of the Victorian era with an imaginative Hendrick's Gin Twist. It will be debuting globally in Montreal on June 28th alongside the Hendrick's E.L.E.V.A.T.U.M. Hot Air Balloon at the Quartier des Spectacles.

"We are excited about this new collaboration and hope that this will be the beginning of a long adventure with the brand," comments Jacques-André Dupont, president and CEO of the Festival. "What is better than the alliance of Hendrick's gin and jazz to recall the atmosphere of the Speakeasies of the 40's? Festivalgoers will have the chance to admire the Place des Festivals and its many scenes aboard the Hendrick's hot air balloon chartered especially for the occasion."

The C.O.R.G.A.N. will be available for viewing and wonderment at the Hendrick's Gin VIP Departure Lounge on Thursday, June 28th and Friday, June 29th, 2018. Festival guests will have access to the area complete with music, entertainment, Hendrick's gin sampling and those bearing the enchanted golden tickets will have the rare opportunity to fly on one of the special E.L.E.V.A.T.U.M. flights.

"Peculiarity combined with innovation is in the DNA of Hendrick's Gin," adds Alvin P. (Peculiar) Ramchurn, National Brand Ambassador, Hendrick's Gin. "The C.O.R.G.A.N. is truly a one-of-a-kind oddity that is curiously unusual, and we look forward to sharing our wonderous world of cucumbers, roses and wonderment with the festival community."

All media and talent accredited from the Festival International de Jazz de Montreal will have access to the C.O.R.G.A.N from June 30th to July 7th via the special media and talent lounge.

To learn more about the whimsical world of Hendrick's Gin, please visit www.HendricksGin.com.
Meg Sethi President & CEO, Evolution Public Relations Inc.
Rachael Friel PR Manager, Evolution PR