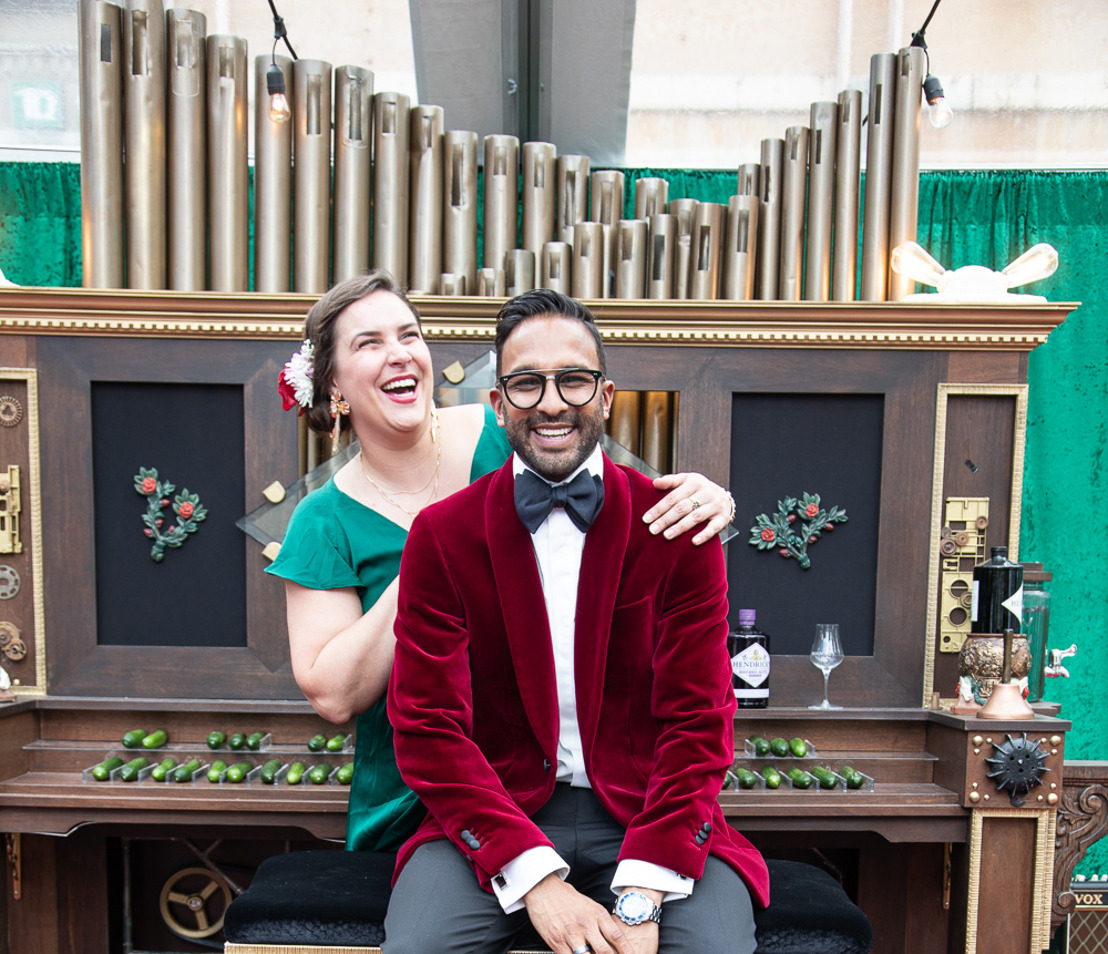 THOUSANDS OF FESTIVAL GUESTS FROM ACROSS THE GLOBE ENJOY AN UNUSUAL AND WHIMSICAL DUET OF SOAR AND SCORE AT THE 40th FESTIVAL INTERNATIONAL DE JAZZ DE MONTRÉAL
The Hendrick's Gin ocular and auditory spectacle featured the 65-foot E.L.E.V.A.T.U.M. (Elevating, Levitating, Exceptionally, Voluminous, Amazingly, Towering, Uplifting, Mobile) hot air balloon, and a 49 whole cucumber key C.O.R.G.A.N., taking guests on an extraordinary expedition of gin and jazz.
Friday, July 5, 2019 —

Montréal, QC – Thousands of guests from across the globe entered the Hendrick's Gin Portal of Peculiarity at the 40th edition of the 2019 Festival International de Jazz de Montréal this past weekend.

The Hendrick's Gin auditory and ocular spectacle took festival guests on a delightful journey into the whimsical world of Hendrick's Gin. Upon entry, guests were enchanted by a wall adorned with one of the most delectable Hendrick's Gin botanicals, the rose, while their auditory experience was elevated by cucumberous sounds from the one-of-a-kind C.O.R.G.A.N. and accompanied with sonnets played by Theadora Feu Follet on the unusual Theremin. Guests also had the opportunity to peek into their unparalleled past, present and future during a visit with Renowned Intuitive Specialist Terri-Lynn Decker, who conducted special energy readings.

For the first time in Canadian history, Golden Ticket guests sampled the limited edition and most unusual innovation, "Midsummer Solstice." Hendrick's Midsummer Solstice is a deeply floral gin inspired by the eternal mystery of nature's most vivid blooms on the Midsummer solstice and will be releasing in Canada before Winter solstice in 2019.

The magical moments came when the glorious E.L.E.V.A.T.U.M. flew above the 40th edition of the 2019 Festival International de Jazz de Montréal giving guests an unparalleled birds-eye view of the city and all of its festivities from its new location at the Maestria Condominiums on 300 Rue Sainte-Catherine Ouest in downtown Montréal.

For more information regarding the Hendrick's Gin E.L.E.V.A.T.U.M or Hendrick's Gin in Canada, please visit the online press room at hendricksgin.alchemystsinc.com.

To learn more about the whimsical world of Hendrick's Gin globally, please visit www.hendricksgin.com.

ABOUT HENDRICK'S GIN

Hendrick's Gin is a deliciously super premium gin, made with a number of unusual twists to deliver a most curious arrangement. Unlike ordinary gins, Hendrick's Gin is distilled in Scotland, in miniscule batches of only 500 litres at a time. Only Hendrick's Gin is made with infusions of cucumber and rose petals, alongside a blend of 11 botanicals, producing a wonderfully refreshing gin with a delightfully floral aroma. Hendrick's Gin is made in a combination of a Carter-Head and Bennett copper pot still, creating a divinely smooth gin with both character and balance of subtle flavours.

Facebook: hendricksgin

Instagram: hendricksgin

Twitter: hendricksgin

Hashtags are #hendricksgin & #hendricksballoon

ABOUT WILLIAM GRANT & SONS

The makers of Hendrick's® Gin, William Grant & Sons, Ltd. are an independent family-owned distiller headquartered in the United Kingdom and founded by William Grant in 1887. Today, the luxury spirits company is run by the fifth generation of his family and distills some of the world's leading brands of Scotch whisky, including the world's most awarded single malt Glenfiddich®, The Balvenie® range of handcrafted single malts, and the world's third largest blended Scotch, Grant's®, as well as other iconic spirits brands such as Sailor Jerry®, Tullamore D.E.W.® Irish Whiskey, Monkey Shoulder® and Drambuie®, Reyka® Vodka and Milagro® Tequila. Represented in Canada by PMA Canada Agency. www.pmacanada.com.

ABOUT MAESTRIA CONDOS

Maestria is a prestigious project inspired by the cultural vibe of the Quartier des spectacles. Comprised of two skywalk-linked towers with 55 and 58 floors, respectively, this mixed-use project will be accessible through Jeanne-Mance, De Bleury and Sainte-Catherine streets. It will offer unique views of downtown and the Saint-Lawrence while placing its residents in the front row of the Place des festivals. Maestria is the largest project of its kind in Montreal. Sign up now for Tower 2 sales this fall at maestriacondos.com.
Meg Sethi President/CEO & Agency Director, Alchemysts Inc.