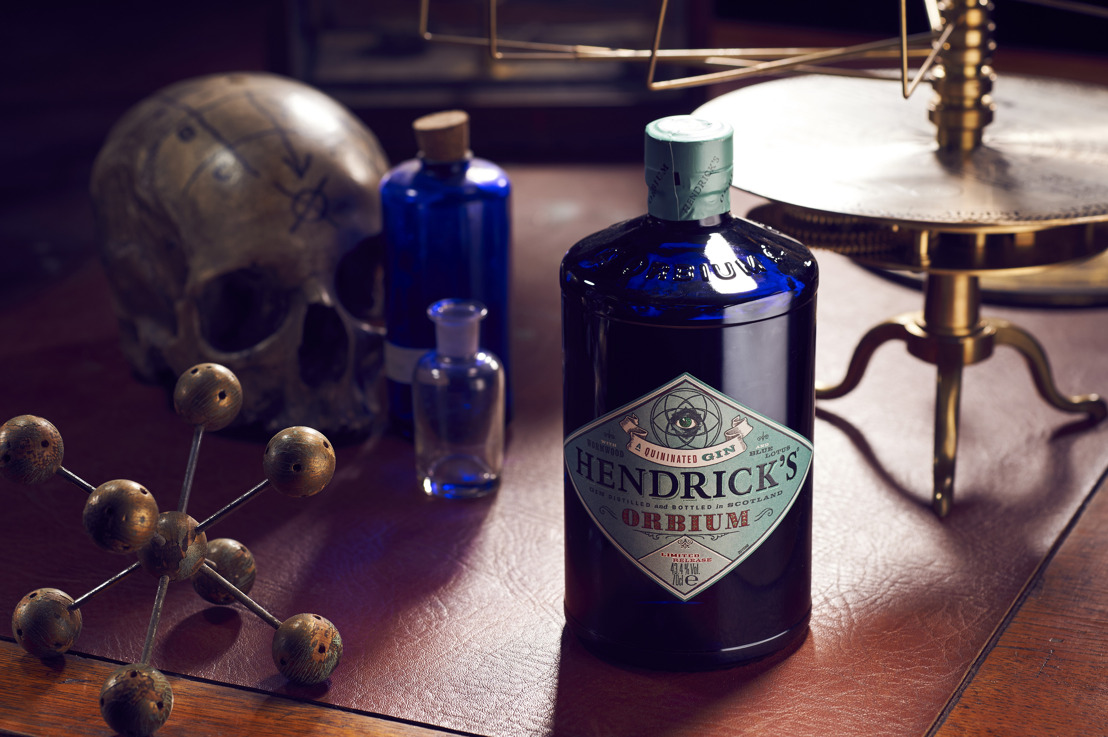 AN ORBICULAR OCCURRENCE: HENDRICK'S GIN PERSUADES GUESTS TO PARTAKE IN THE PARALLEL WITH ORBIUM
Hendrick's Gin releases reimagined gin in Canada with the addition of three ingredients to their existing cucumber and rose infused experience
Thursday, September 6, 2018 —

A peculiar gin often reserved for the curiously odd explores its darker and daring with the release of Orbium across Canada this Fall season.

Already a gin not meant for everyone, Hendrick's Gin Orbium dares inquisitive crowds to travel further down the Hendrick's rabbit hole into a parallel world of the curiously odd, undoubtedly and almost certainly not for everyone.

Inspired by Hendrick's Gin Master Distiller Lesley Gracie's description of the liquid journey, Orbium is derived from the word "orb", commonly known as the plural of Orbis, the Latin word for circle. Perfectly presented in the iconic apothecary style now associated with Hendrick's Gin, Orbium comes in a deep, sumptuous, blue bottle inspired by the essence of Blue Lotus Blossom, one of the key ingredients in the parallel pleasure of this special spirit.

"Orbium leaves an unfamiliar yet oddly familiar sensation on the palette," comments Alvin P. Ramchurn, Purveyor of the Peculiar and National Brand Ambassador for Hendrick's Gin. "It's designed to open up previously unexplored dimensions of gin, infusing flavours traditionally associated with classic gin libations for a finish that is uncommonly long."

Distilled with a trinity of three additional elements to the already fortuitous flavours of cucumber, rose and 11 botanicals in the classic Hendrick's Gin, Orbium is truly a parallel experience of the world's most peculiar, infusing the classic flavours of gin cocktails in one reimagined experience. Quinine (often found in tonic water) is expertly infused into Orbium as is wormwood, usually found in vermouth, a common ingredient in a traditional gin martini.

A third element in the Orbium trinity of taste that will pleasure the palettes of all who shall swill this drink of delight comes from the covert Blue Lotus Blossom, bringing another level of balance, bitterness and brightness to the world's most peculiar gin.

Available only in ten markets across the Globe, Orbium will be available for a particular period of time in Canada's provinces of Ontario, Quebec and British Columbia via government liquor boards and special venues. Following this wondrous allotment, Orbium will diverge from the peculiarly parallel universe of Hendrick's to vanish into vats unknown.

"Orbium comes from the remarkable mind of the Hendrick's Gin Master Distiller, Lesley Gracie" adds Beth-Anne Perry, Senior National Brand Manager, Hendrick's Gin. "Hendrick's continues to break conventions and take gin in a curiously unusual direction."

For information regarding the Canadian release of Orbium and its availability, please visit the Hendrick's Gin Press Room.

For more information on Orbium, please visit www.hendricksgin.com/orbium.
Meg Sethi President & CEO, Evolution Public Relations Inc.
Rachael Friel PR Manager, Evolution Public Relations Inc.